About the DACP
DACP offers a developmental, play-based preschool program for children ages 2, 3 and 4. We are a state licensed, non-denominational and non-discriminatory school.
But we are much more than that.
Enroll your child at Drayton, and you have an active role in shaping your child's first school experience. You'll work in the classroom alongside the teacher and see your child's social and academic development first-hand. You will also become part of a community of parents sharing the experience of running the preschool together.
Classes
Drayton offers classes for three age groups. Children must be of class age (2, 3, or 4 years old) by September 1st of the current year to be eligible for a class in their age group.
The 2 year old Parent/Tot Program is on Wednesday from 9:30am-11:00am (a parent stays with the child during school). The AM Class (3 year old) Program has classes on Tuesdays and Thursdays from 9:00am to 11:30am. The Pre-K (4 year old) Program has classes on Monday, Wednesday, and Friday from 9:00am-12:00pm.
The annual tuition for each class below is an estimate, as tuition is raised by 1-2% annually:
• Parent/Tot: $439.92
• AM Class (3-yr-old): $965.80
• Pre-K Class (4-yr-old): $1,550.76
Teachers
Mrs. Fuller
Julie Fuller has been the head teacher at DACP since 1999. Prior to being the teacher here, she was a parent of the co-op (her two daughters went here) and a board member. And, a very l-o-n-g time ago, she was a student here!
Mrs. Fuller attended Western Michigan University and got her degree in Elementary Education and Theatre Education. After becoming a mom, she wanted to spend time with her kids and still work a bit, so she substitute taught in the Ferndale Public Schools for about 10 years. When the teaching job at Drayton became available, it was offered to her, and she's been here ever since. Clearly, she loves kids!
She and her husband Dan have two daughters and a dog named Scout. When not teaching, Julie loves performing with community theaters and creating her own jewelry.
Mrs. Fuller's favorite links: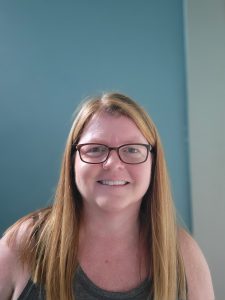 Mrs. Stanton
Kim Stanton is a Ferndale resident and has always enjoyed working with children. She attended Siena Heights University and graduated in 1995 with her degree in Early Childhood Development. Mrs. Stanton has two children (Jacob 18, Justin 13) and has been married to her husband Erik for 21 years. After working at many daycares she decided to become a nanny where she was able to bring her sons with her to three different wonderful families for the past 20 years. She has subbed at a co-op in Clawson and her youngest son attended the FCC co-op in Royal Oak.
Mrs. Stanton enjoys spending a majority of her summers at her husband's family cottage in Grand Bend, Canada. Kim enjoys spending time with her sons at many different zoos, going to the gym, taking her dog Zoey on walks, playing golf and cheering on the Detroit Lions.